Baseball
Baseball News
Lower Columbia defeats Mt. Hood for 2015 Baseball Championship
Red Devils win NWAC baseball crown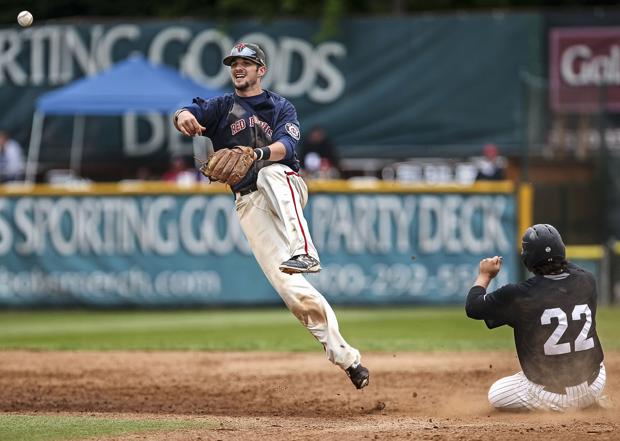 LCC second baseman Jake Bakamus fires to first for an inning-ending double play after forcing Mt. Hood College's Isaac Benard at second during the second game.
Photo: Bill Wagner
By Rick McCorkle | The Daily News (Source article)
Working on two days' rest, Lower Columbia College pitcher Tanner Olson was dealing with some soreness and stiffness in his back. He wasn't going to let it stop him and his fellow Red Devils from reaching their goal.
Olson tossed a six-hitter to garner Most Valuable Player honors, and his teammates pounded out 13 hits to beat Mount Hood 6-1 in the title game of the Northwest Athletic Conference Baseball Championships on Monday at David Story Field.
Earlier in the day, Mount Hood needed 11 innings to beat LCC 2-1 to force a second championship game in the double-elimination tournament.
LCC (41-10) won its conference-record 11th baseball title in its 24th championship game appearance. Mount Hood, which notched its fourth runner-up finish in seven title game appearances, finished 35-14.
"It's a great feeling to win this, and it's what you work for every day beginning in September," LCC coach Eddie Smith said. "We put them through a grind to get them ready for a tournament like this and a day like this, and it's worth it."
Olson was sharp, throwing 69 of his 106 pitches for strikes. He struck out three batters and walked two.
"I battled through the soreness and stiffness and got the job done," Olson said. "I came out, threw strikes and let them put the ball in play. I have a good defense behind me, and they made the plays."
Saints' coach Bryan Donohue also was impressed with Olson's performance.
"Their arm was a lot sharper, they hit better and they showed up to play," he said. "You get to this game and you hope to have a chance to win it. We didn't have that chance as the game went on, and they did a good job putting runs on and creating space between us."
The Devils scored all the runs they needed in the third inning. Chris Rogers led off with a line drive double down the left field line, and scored when Saints' pitcher Seth Rayburn tossed a sacrifice bunt from Ryan Engquist over the third baseman's head.
Two batters later, Seaver Whalen drilled a Rayburn offering into the left field bullpen, which scored Engquist.
"There wasn't anything we could've done differently," Donohue said. "The three-spot hurt, and any time we felt we had something going their pitcher nipped it in the bud."
The Saints scored in the fourth inning, but left three baserunners stranded in scoring position in the first, fourth and ninth innings.
"The one thing we could've done more was put pressure on at the offensive end," Donohue said. "We had a few runners on, but we grounded into a lot of double plays."
Hood grounded into five double plays, including twin killings that ended the first, sixth and eighth innings.
"We did a good job taking care of the baseball, attacking the zone and limiting their opportunities," Smith said. "We were able to extend offensively."
Smith talked himself out of replacing Olson with a reliever for the ninth inning.
"The sophomores probably would've killed me if I had done it," he said. "I couldn't imagine he'd be that good coming back like he did on two days' rest, but he was the best he's been all season."
LCC had 13 hits. All-Tournament picks Whalen and Tanner Marty had three hits apiece, and all-tourney selections Ryan Littlefield and Lorin Archibald added two hits each.
___
Mount Hood 2, Lower Columbia 1 (11 innings): The Red Devils made one error in the first championship game, but it was costly and led to the Saints' game-winning run.
Devils' All-Tournament reliever Christian Parsons opened the 11th inning with consecutive strikeouts when he gave up a first-pitch base hit to Saints' center fielder Isaac Benard. One pitch later, Benard stole second, and moved to third when the errant pickoff throw sailed into center field.
After intentionally walking cleanup hitter Nolan McCall, Tommy Lane hit a line drive to center field, which scored Benard.
LCC broke a scoreless tie in the fifth inning when Engquist reached base on a third strike passed ball, and scored on an RBI double to right-center field from Kane Ulrich.
Hood tied the game in the eighth when Evan Jones hit a leadoff single and later scored on a sacrifice fly from Nick Gawley.
Southern Division MVP and All-Tournament pitcher Joe Balfour checked LCC on six hits and struck out three in a complete-game outing.
"We played well and it was two great teams going at it," Smith said. "They had an arm on the mound which was the Southern MVP for a reason, and we came out on the short end of a good ballgame."
All-Tournament starting pitcher Kade Kryzsko scattered five hits and threw 54 of his 82 pitches for strikes before yielding to Parsons, who took the loss.
Jake Bakamus had two hits including a double, and Michael Forgione added two singles.
Also named to the All-Tournament team were LCC pitcher Alex Torson; Mount Hood pitcher Balfour, catcher Louis Wolf, infielder McCall and outfielders Benard and Nick Gawley; Tacoma infielders Jake Vieth and Alex Hull; Treasure Valley infielder Steffan Zanoni; Edmonds infielder Jamie Umbinetti; and Douglas pitcher Cody Duggan.
"The guys embraced the toughness it took to be a great team, and rather than shy away from it they took it head-on," Smith said. "You have a band of guys doing it for each other and no one was going to give up.
"They knew they would find the championship some how, some way."

All-Tournament Team

| | | |
| --- | --- | --- |
| Catcher | Louis Wolf | Mt. Hood |
| Infield | Justin Vieth | Tacoma |
| Infield | Steffan Zanoni | Treasure Valley |
| Infield | Alex Hull | Tacoma |
| Infield | Jamie Umbinetti | Edmonds |
| Infield | Nolan McCall | Mt. Hood |
| Infield | Seaver Whalen | Lower Columbia |
| Outfield | Tanner Marty | Lower Columbia |
| Outfield | Nick Gawley | Mt. Hood |
| Outfield | Isaac Benard | Mt. Hood |
| Starting Pitcher | Kade Kryzsko | Lower Columbia |
| Starting Pitcher | Joe Balfour | Mt. Hood |
| Starting Pitcher | Alex Torson | Lower Columbia |
| Starting Pitcher | Cody Duggan | Douglas |
| Relief Pitcher | Christian Parsons | Lower Columbia |
| DH | Lorin Archibald | Lower Columbia |
| Utility | Ryan Littlefield | Lower Columbia |
| | | |
| MVP | Tanner Olson | Lower Columbia |
back