Cross Country News
Long time Lower Columbia coach and supporter Chuck Byers passes

Chuck Byers' passing: 'It's a huge loss for the community'
By Rick McCorkle | The Longview Daily News
It's hard to pinpoint exactly how many student-athletes have been impacted by Chuck Byers' mentoring over the last seven decades.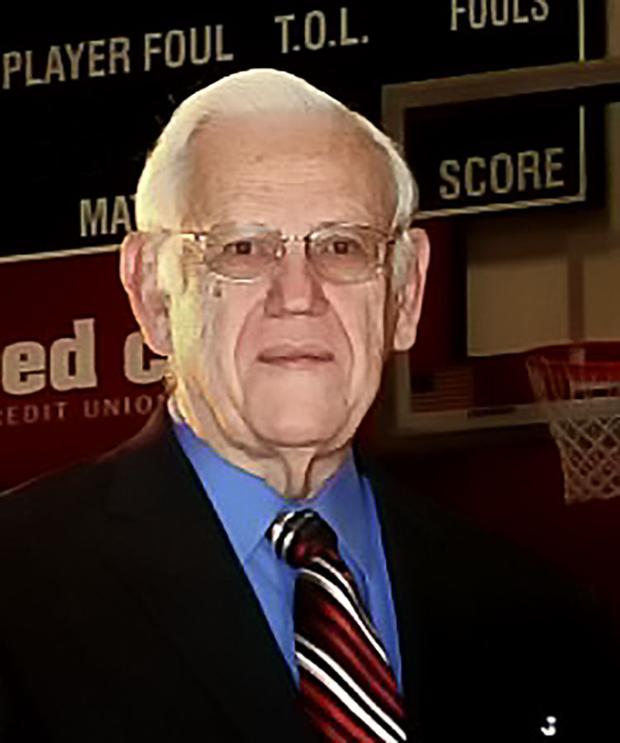 "Chuck cared about the kids," Lower Columbia College women's basketball coach Chad Meadors said. "He was a compassionate, caring, honest person who was passionate for the games we play and the people who play them."
Byers died Sunday after a short battle with cancer. He was 83.
Raised in Longview, Byers began playing basketball in junior high school. In his freshman year, coaching piqued his interest as he helped coach the seventh-grade team at Kessler Elementary. He played basketball three of his four years at R.A. Long High and helped the Lumberjacks to the state tournament. Byers also played baseball as a sophomore and served as team manager in his junior and senior years.
Byers also turned out for track as a high school senior and was the team's top mid-distance runner in the 800 meters. Prior to graduation in 1950, he was presented the school's Johnny Hammer award for athletic excellence.
After a stint in the Army in Fort Hood, Texas, where Byers participated in basketball and track, he enrolled at then-Seattle Pacific College in 1953, lettering in track and basketball. It was at SPC where his track career took off.
Byers, along with teammates Ben Moring, Denton Palmer, Eugene Peterson and Wes Thompson, grabbed fourth place in the two-mile relay at the prestigious Drake Relays in 1953. The group also grabbed a second-place finish in 1954 and was fourth in 1955. The relay also won the state NAIA finals in 1954 in the mile and two-mile runs, and Byers ran in the nationals in the 440 in 1955.
Byers, recalling his collegiate days in a 2009 Daily News story, said, "In the middle of my junior year, the coach (Dr. Ken Foreman) told me if I went back to the Drake Relays and did well, I wouldn't be playing basketball any more," he said then. "That was the end of my basketball career. I missed it, but we knew we had something special."
In 2009, Byers and his relay mates were inducted into the SPU Legends Hall of Fame..
In 1955, Byers embarked on his career in Sequim, Wash., where he taught and coached football and track at Sequim Junior High. Three years later, he transferred to Mark Morris where he taught and coached for the next 27 years. He served as an assistant coach for junior high football, high school boys and girls basketball, diving and track. Byers was MM's head cross country coach for five years and head track coach for 20 years. He coached eight track athletes to state titles at MM, along with six state runner-ups, two third place finishes and a fourth place finish. Byers' impact on the student-athletes he coached was so great that nine of them went on to coach high school track.
He retired from the classroom in 1985, but not from coaching. From 1985 to 1992, Byers coached at White Salmon, Castle Rock and Rainier high schools before returning to MM where he served as an assistant track coach for the next 20 years.
Byers also coached cross country and track at Lower Columbia College during the 1990s, where he mentored NWAACC champion Randy Mitts in the 400 hurdles in 1998. In 2000, Byers joined the LCC women's basketball team as an assistant coach, a position he held for 15 years under head coaches Meadors and Jason Hoseney.
Meadors called Byers "sharp and detail-oriented".
"He caught a lot of technical issues and could quickly point them out," Meadors said. "He was always a great sounding board after games and had great insight."
LCC athletic director Kirc Roland believed Byers coached and mentored "for all the right reasons."
"He had a huge impact on our women's program as a senior authority," Roland said. "He was one of those assistants who went with his key at night to open the gym so kids could get up extra shots. He didn't take money from the college for his work, but he invested so much back into it."
Byers was inducted into the Washington State Track and Field Coaches Association Hall of Fame in 2004, and was placed on the Lower Columbia Area All-Century Team in 2009. Mark Morris and R.A. Long inducted Byers into their hall of fames in 2011 and '13, respectively.
"Chuck's an icon and it's a huge loss for the community," Meadors said. "He's an example of how you should live your life, and an example of what servant leadership is. He's Longview and LCC treasure."
Byers volunteered 15 years with the local Special Olympics program, assisted with the Longview Track Club, served as president of the Washington State Track and Field Coaches Association, and was active in the Lower Columbia Genealogical Society.
He's survived by his wife, Virginia, a son, Brent, of Gresham, Ore., and daughter, Ronda, of Vancouver.
back